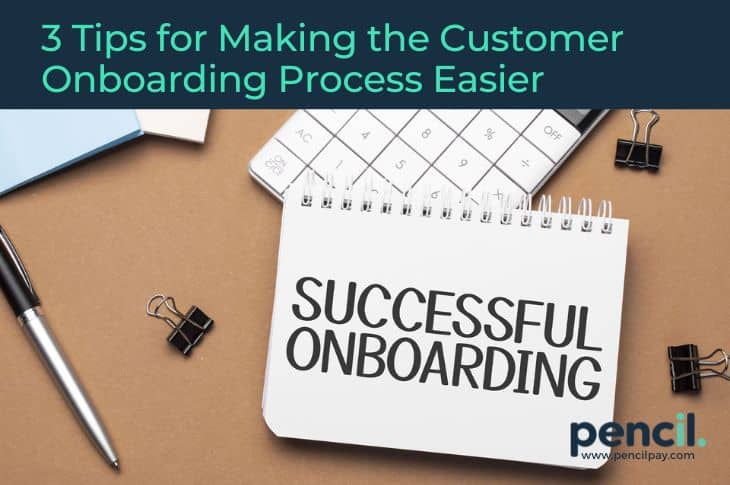 3 Tips for Making the Customer Onboarding Process Easier
Owners of wholesale organizations and their accounts staff are used to working with business customers who request trade credit to get their enterprises up and running.
In fact, B2B trade credit is the lifeblood of many industries, including health and food and beverage suppliers. The problem for many small business owners is that they can be taking a huge risk in bringing on a new trade credit customer.
The onboarding process can be difficult to understand and easy to mismanage. 
Fortunately, there are simple solutions to this complex process. Learn more about common flaws in customer enrolment and gain a better understanding of how you can personally address these issues to create a stronger, healthier business that eliminates unnecessary risk.
Common Pitfalls in B2B Trade Credit Onboarding Agreements
In Australia, it's becoming more common for businesses to use trade credit instead of cash agreements to bolster business and keep the supply chain moving.
When you sign a contract with a new customer after determining their creditworthiness, you are taking a calculated gamble.
You are also committing yourself and your team to communicating efficiently and following up with this customer throughout the entire onboarding and payment process.
When your business is new, you may devote much of your time to ensuring that you do everything correctly and that your communication lends itself to your business's growth.
It is possible to check the client's credit, assess their track record, and follow up with them when they miss a payment — if you have time. Unfortunately, many small business owners wear many hats as they function as their own marketing departments, act as sales professionals, and run their social media accounts. As your business grows, your attention may be directed elsewhere.
If you are a busy professional, details might slip through the cracks. Other pitfalls of not using an automated system to check credit and streamline the entire process are:
New business owners often decline to run credit checks for new customers they know, or they give trade credit to friends without assessing whether these individuals will pay them back in time.

Staff members may be uncomfortable calling or contacting customers when they do not follow through with their payments.

Records of contracts and payments may be poor so reconciliation eventually becomes impossible due to the overall lack of information.

Businesses sometimes use software that crashes regularly, is outdated, or does not encompass every step of the process.

3 Tips for Streamlining Your Onboarding Process
Forming a partnership with a new business or professional doesn't have to be time-consuming or difficult. In fact, when you organize the process correctly, it can serve to strengthen the relationship between your business and the organizations you serve.
While a confusing credit check or contract management can frustrate both the business owner as well as the customer, a streamlined protocol can inspire trust, loyalty, and continued business. Don't overlook this crucial phase as you check credit, negotiate agreements, and sign digital contracts.
At PencilPay, we understand that customer onboarding is important to ensure the right match between businesses — and that's why we have made it a priority to digitize every step of this process.
Our software is designed to streamline these tasks, from establishing an account with a new client to set a payment schedule to follow up on delinquent payments (if necessary). Learn more about how to make your business-to-business relations work smoothly and efficiently with these tips.


1. Consider Your Goals
In a B2B partnership, customer onboarding can look drastically different than a business-to-customer relationship. For example, you might be creating a long-term partnership in which you supply wholesale goods, usually through trade credit, to a related venture.
Do yourself, and your team, a favor by creating concrete goals for the enrolment even before you begin using professional-level software. Your goals may be as follows:
Eliminate ambiguity when it comes to the level of credit you will allow and decline, and do not deviate from this rule.

Designate a specific member of your accounts staff to review the process step by step. You may also give another staff member the job of being the "point person" whom customers can contact if they need assistance.

Create a

protocol

for when you will contact customers who turn in payments late (or not at all). As emotions can run high when customers do not pay, it's smart to have a plan put in place for this scenario before it happens.

2. Choose Your Customers With Discretion
If you're just starting out, you've likely tapped into your network of friends, family, and acquaintances for potential trade credit agreements.
If these individuals own businesses, you may consider this a perfect arrangement. However, be careful working with those you are close to in your personal life — even if your friend is a fellow business owner.
Remember that you cannot replace your working relationship with a customer even with the most proficient automated software.
Using customer onboarding software can save you headaches when it comes to credit checks and overdue payments, but it cannot mend a relationship with a business acquaintance who asks for constant payment extensions at the expense of your friendship.


3. Communicate Clearly and Directly
Your new customers will appreciate your constant communication throughout the onboarding process.
Remember that some of them may have never used software for these tasks. Designate a member of your team who can be contacted at any point in time.
Your new customer may need help completing the online application, signing the digital contract, or understanding the auto-billing options (they may choose from several different cycles depending upon your mutual agreement).
Learn More About Our Onboarding and Credit Management Software
PencilPay's revolutionary software makes contracts, credit checks, and automated payments simple and reliable.
If your business is growing quickly and you need a reliable, easy-to-understand solution to settle credit accounts, read through our site and book a demo to learn more about us.
We look forward to assisting you in streamlining your customer onboarding process!
---